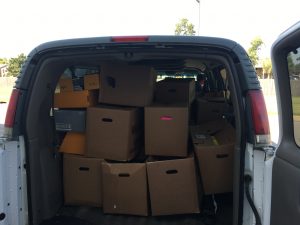 Oklahoman's are familiar with our state's education budget woes. Even in better years, some children always have less than they need. It is the purpose of the people of God to show God's love to our communities and help wherever we can.
Today, thanks to the support and generosity of our members and one of our local Walmart stores, our church was able to deliver a van load of donations to Jerry Olansen, Superintendent for Glenpool Public Schools.
At our first stop, we delivered much needed school supplies. The supplies – including lunchboxes, paper, folders, and calculators – will be distributed to teachers, students, and classrooms throughout the school system.
A few minutes later the van made another stop and dropped off three boxes of food. Our church donates food for underprivileged children to take home for the weekend. Last year we helped 46 children per week in the Kiefer Public School System. This year we are adding food donations for 25 additional children in the Glenpool school system. This was our first of many deliveries to come this school year at Glenpool Public Schools.
If you would like to donate funds to our food program this school year, please contact the church office or see Debbie Whitchurch.
Glory to God.